29 Mar

"WHAT WOULD THE FINANCIAL POSITION OF YOUR LOVED ONES BE IF YOU WERE TO DIE TOMORROW?"

"WHAT WOULD THE FINANCIAL POSITION OF YOUR LOVED ONES BE IF YOU WERE TO DIE TOMORROW?"

I'm not going to win friends at dinner parties for asking the dreaded "Life Insurance" question, but here goes (and I promise not to get any more depressing than this, so brace yourself):

Yes, I know; your own unexpected death is not something anyone wants to think about, but it is a possibility, however small, and this really is a question that you need to be brave enough to ask yourself.

The good news about the slim and unpleasant possibility of dying unexpectedly is that you can plan for it, and surprisingly inexpensively, as I'll describe. So, stick with me here… there are some positives to come! We are over the worst.

PEOPLE ARE STRANGE
We insure our cars, our pets, our household contents, our vacations, but are strangely reluctant to insure our own lives.
So, what is the single most commonly cited reason for not purchasing life insurance?

LIFE INSURANCE MISUNDERSTANDING #1: IT'S TOO EXPENSIVE!
An astonishing 80% of consumers surveyed misjudged the price for term life insurance (for which the policyholder pays a fixed regular premium to provide cover over a period of time; usually taking them up to retirement age), with:
Millennials (age 22 – 37) over-estimating the cost by

213%

Generation X (age 38 – 52) over-estimating the cost by 119%

BUSTING THE "IT'S TOO EXPENSIVE" MYTH
Consider the following case studies of non-smoking professionals living and working in Singapore, and with plans to retire at age 60. Quotations are based on the individuals preferring to pay a monthly premium (paying annually would result in an additional 2% discount):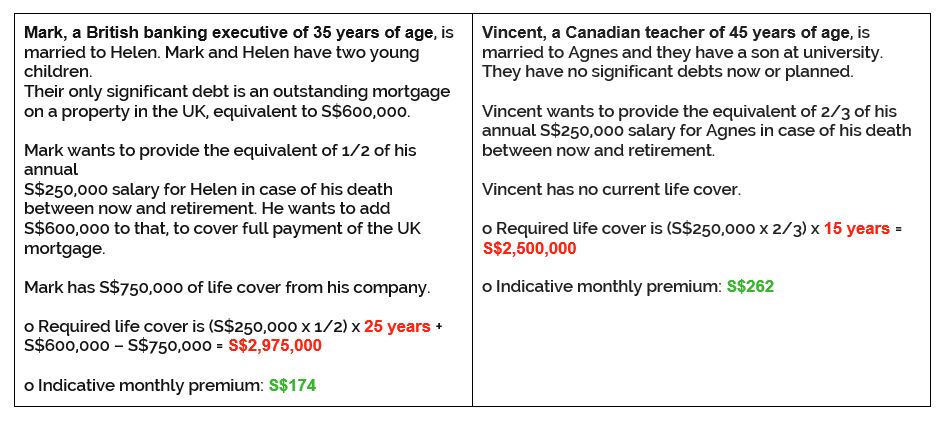 I'll leave you with two points well worth noting on whether or not "now" might be a good time for you to consider purchasing life insurance:
1. The life insurance market has experienced something of a price war over recent years in Singapore, resulting in significant reductions in premiums, to the benefit of consumers here. How long that will last, with one of the big players (Zurich) having now left the market, is unclear.
2. As a general rule: the earlier one purchases a life insurance policy, the more affordable the premium will be. Life insurance companies punish procrastination!
"What price peace of mind?" Well, I invite you to just take the first step: ask for a quotation!
This article aims to provide information, it does not constitute financial advice, nor should it be relied upon as such. You should speak to a financial advisor regarding your circumstances before making a financial commitment. Global Financial Consultants Pte Ltd is a Licensed Financial Advisor and is regulated by the Monetary Authority of Singapore. MAS License number FA100035-3